Books on Digital Imaging
Shooting Digital Video
Digital video is a revolutionary force in filmmaking today, and Shooting Digital Video provides a much-needed guide to selecting the right equipment for the job and using it to produce professional-level work. An excellent resource for those interested in shooting documentaries, news, shorts, home videos, corporate videos, or even low-budget features, Shooting Digital Video offers complete technological coverage - from editing to compression for the web. From acquiring and maintaining the necessary equipment to shooting and lighting your DV, this book will show both the professional and the amateur how to do it with style.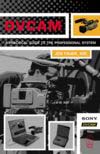 DVCAM A Practical Guide to the Professional System
DVCAM: A Practical Guide to the Professional System, is a nuts and bolts guide for anyone who wants to learn more about Sony DVCAM, to determine what equipment to use, how various models compare, and how to use each of them. A user-friendly overview of the DVCAM format and its equipment, the text covers camcorders, cameras, tape, VTRs, editors, and accessories. The focus is on quick guides (Jump Start chapters) that show how to use the various Sony DVCAM camcorders: DSR-PD100A, DSR-PD150, DSR-250, DSR-300A, and DSR-500WS. Professionals, film students, independent feature filmmakers, schools, government agencies and military services, and news crews will benefit from its hands-on approach.
---
Shooting Digital Video
Advice for the professional as well as the amateur on how to shoot DV with style

Includes technical information on equipment selection, use, maintenance, and accessories

Companion website features tutorials, discussion on and links to various software programs

"Rich with illustrations and examples, this book is a must-have for serious videographers working with the digital video format. It covers everything from inserting a tape, to tripods, to lighting, all in a user-friendly format. It has valuable sections about equipment selection and maintenance." - Don Smith, Videomaker

"Of all the new books on the subject, Fauer's is one of the most accessible. It was written for beginners as well as "die-hard film fanatics," and is an attempt to reach "a more diverse audience than just the ranks of professional cinematographers". - Ray Zone, American Cinematographer

"This eminently useful volume is rounded out with an appendix that includes a list of suppliers by name and address, tape-to-film facilities, Web resources and helpful publications". - Ray Zone, American Cinematographer

"Shooting Digital Video is a delight for a whole bunch of reasons. First of all, unlike many technical books, it is written in a conversational style that makes it quite enjoyable. It's rare that a book on a technical subject gets an actual laugh out of me...My bet is you will find it well worth the purchase price too." - Zale Dalen, volksmovie.com

Written by a professional filmmaker and author of six other camera-related titles, this handbook offers the expert's view of this innovative process. Providing the necessary information and advice to make a masterful looking digital video, this text covers the practical, theoretical, and technical aspects of the process. Beyond an in-depth look at digital video cameras and equipment, some other topics covered are editing, DV to film transfers, image stabilization, transferring stills to computer, touching up your pictures, lenses and filters, audio and audio accessories, and suppliers. As an added value, the companion website features sample videos, freeware and shareware of editing and compression software, and other technical updates.
Introduction; Credits; What is DV?; Selecting and Using the DV Camera; Maintenance and Simple, Do-it-yourself Repair; Pre-production; Production; Post-Production
For: Advanced amateur prosumer users: independent filmmakers, film students, documentary, wedding, nature, sports filmmakers, police military, medical, corporate. Professionals: camera operators, directors, producers making the change to digital.
ISBN: 0240804643
Halftones: 190
Measurements: 7 x 9.25 In
Pages: 304 Publication Date: Friday, June 22, 2001
Price: $34.95
available at bookstores, focalpress.com, amazon.com, cinematographer.com
DVCAM A Practical Guide to the Professional System

A nuts and bolts guide to the DVCAM format and equipment

Jump Start chapters provide overviews of various Sony DVCAM camcorders

User-friendly and thoroughly illustrated

"What I found was a well laid out book with comparisons not so much of manufactures but of formats. The virtues of DVCAM are well laid out in language that is easy to understand for the layman but not so simplistic that a professional can't get something out of it. An excellent read for both the user who is already shooting DVCAM and the professional cameraman who is who is just entering the digital realm. With comprehensive sections on the difference between compression, sampling, quantizing, and digitizing the reader gains a better understanding of whats going on when an image hits the CCD and how it ends up on tape." - volksmovie.com

"In his previous book, Shooting Digital Video, Jon Fauer, ASC provided an exemplary overview of digital video, covering DVCam, MiniDV and DVCPro. His new book, DVCAM, is a comprehensive summary of the Sony DVCam format and its equipment, including cameras, tape, VTRs, editors and accessories." - Ray Zone, American Cinematographer

This comprehensive, hands-on book is an overview of the DVCAM format and its equipment. DVCAM is the professional video standard developed by Sony, based on the consumer DV video format. In the five years since DVCAM was introduced, over 200,000 cameras and VTRs have been sold, making it the best-selling professional format of all time.


What is DVCAM; Choosing a DVCAM Camcorder; Sony DSR-PD100A; DSR-PD150; DSR-250; DSR-300A; DSR-500WS; Common Features; Still Photos; Audio; Lenses; Matteboxes and Filters; Tripods and Heads; Camcorder Care; VTRs; Editing; Serious Editing; Where Does it All Go?; Theory; Sony Contacts; Suppliers; Technical Specs; Credits; Index; About the Author

For: Buyers of Sony camera products and current users of Sony DVCAM products; professionals

ISBN: 0240804805 Paperback
Halftones: 150
Measurements: 6 x 9.25 In
Pages: 250 Publication Date: Friday, October 19, 2001
Price: $24.99

available at bookstores, focalpress.com, amazon.com, cinematographer.com

© Butterworth-Heinemann 2001
[ Home ] [ DVBook ] [ DV Books ] [ Reel ] [ Contact ] [ News ] [ Books ] [ Search ] [ Site Map ]