Arriflex 16 SR3 Camera System Film Series
| | | |
| --- | --- | --- |
| | | |
| | | |
The Book and Three VHS Video Tapes in a Custom Slipcover
Camera Assistance in a Case
The Arriflex 16 SR3 Book is accompanied by three VHS video tapes (all shot with Arriflex 16 SR3 cameras in Super16).
The tapes feature real crews in real situations, and supplement the text as a complete resource on the
16 SR3 Camera System, available for reference and review.
The tapes cover the following topics:
---
1. Arriflex 16 SR3: INTRO
This award-winning short subject introduces the camera system.
It is available free with the purchase of Arriflex 16 SR3: The Book,
as part of the complete set, or by contacting Arriflex marketing.


Cine Gold Eagle



Telly Award




New York Festivals
Best Cinematography
A day in the life of the 16 SR3 camera system
across North America: on location,
in studios, hand-held, remote controlled, underwater
and in the air. (8 min.)

CINDY Gold Award
---
2. Arriflex 16 SR3: CAMERA PREP
A detailed exploration of the 16 SR3 camera
presented by real camera assistants during a rental-house checkout.
(Approx. 45 min.)

Topics include:

Basics of Camera Checkout
Camera Cases
3 Ways to Mount the Camera
Power Sources, Cables
On-Board Batteries
Powering Up the Camera
Main Camera Display
The 6 LCD Display Modes
Default Camera Speeds
Regular16 or Super16 Format
Fiber Optic Viewing Screen
Viewing Screen Focus
Setting Diopter
Timing Test
ARRIGLOW and Lightmeter
Adjusting Mirror Shutter Angle
Video Assist
24V to 12V DC Converter
Anti-Flicker Processor
Frame Store
Adjustment of Video Assist
Mounting Lens and Rods
Matteboxes
PL to Bayonet Adapter
16 SR3 vs Highspeed 16 SR3
Eyepiece and Finder Extender
Orienting and Adjusting Finder
Eyepiece Heater
Attaching Magazines
Scratch Test
Checking and Setting Up Lens
Lens Care
Checking the Gate
Loading Mags in Changing Tent
Loading Mags in Darkroom
AC Kits, Tips and Tools
Wrapping Up
---
3. Arriflex 16 SR3: CAMERA SETUP

The next step: setting up the camera and all its accessories on the job.
On the set of "Dr. Quinn Medicine Woman," in the Mojave Desert for a car commercial,
and on location with a variety of different shoots. A tour of advanced features and accessories.
(Approx. 44 min.)

---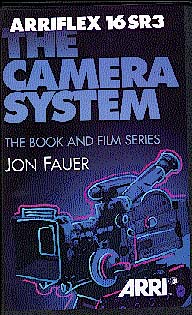 [ Home ] [ DVBook ] [ DV Books ] [ Reel ] [ Contact ] [ News ] [ Books ] [ Search ] [ Site Map ]
---